An instructor in outdoor horse riding as well as therapeutic horse riding, Isabelle offers personalized introductory horse riding and therapeutic horse riding that are adapted to your needs.
The riding lessons given here are given and received with full awareness.
This means that intuition, the present moment and a return to the inner self are at the heart of the lesson. And this is as true for the instructor as it is for the student. Every lesson is unique. Because every day and every rider a mettle is unique, the only important moment is here and now.
The student will learn the basics of horsemanship in connection with the horse, nature and his or her own inner essence. Come and experience the medicine of the horse with full acceptance and awareness. And what is this medicine? Helping people be free to be themselves! A journey through the life that flows within and all around each of us!
With love
Isabelle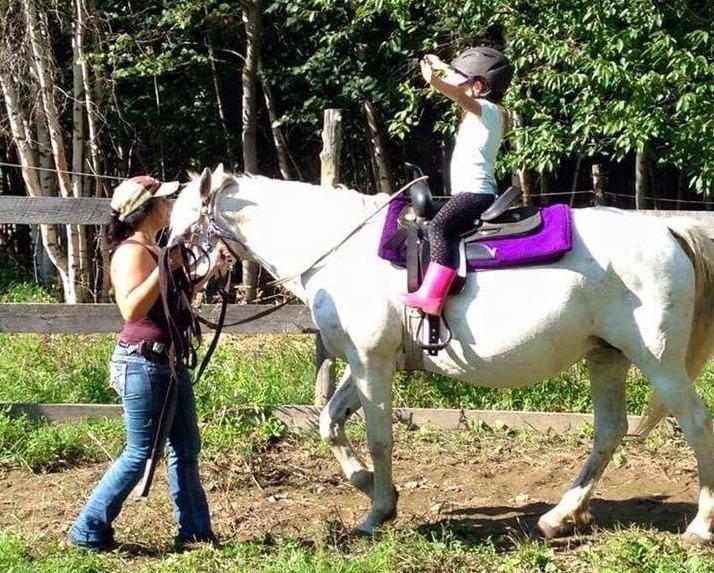 Private:
80/hr (taxes included) per rider
Therapeutic riding: $80/hr (taxes included) per rider
The cart :
Session of 10 lessons for children (10h): $750 (taxes included)
Therapeutic riding: Session of 10 lessons (10h): $750 (taxes included)
NEW FOR ADULTS: 5 meetings of 1h30 each for adults: $750 (taxes included) this meeting takes place on the trail. You'll receive a basic course combining self-work and energy treatment on horseback. A moment of rejuvenation to recharge your inner battery and release what no longer serves you.
(Payment in one or two installments)
Group courses :
80 per person (taxes included)
Groups of 2 to 5 people
Children aged 5 and over
Introduction to the horse, grooming, riding the horse on the instructor's leash. This is a beginner's course with one horse shared by all riders.
Each rider has his or her own horse. This course is designed to teach the basics of horseback riding. Through safety and play, as well as inner balance and self-confidence. The rider will learn about safety around the horse, how to brush it, and the why of each step. Balance and how to lead it. An hour of fun exploration and learning.
A perfect activity for the whole family, dad and mom will be able to relive their childhood hearts for a while. Sparkling eyes and a heart full of happiness.
Horse & Child Experience
Price: $100/child
Duration: 90 minutes
I've created a truly exceptional concept for youngsters that will help them discover the tools within themselves to move forward in life, and above all, discover their authentic self. Your child will live the experience with other children who are just as unique as he or she is, and together they can grow through each other's experiences, being heard and respected. The horse's medicine is great, and its mission is to help humans become free to be themselves. And during these activities, the child will learn basic horsemanship, ground work with the horse, trail riding. But he'll also learn to work on his leadership, authenticity, listening, talking about his emotions, connecting to his intuition, and much more.
If this activity appeals to you, reserve your child's place in the time slot allocated to his or her age group. You can sign him or her up once, every week or once in a while. The activity lasts 1h30, and several things will be covered during this time: a talking circle, a workshop on working on oneself, brushing the horse, riding it, learning the basics of riding and a mini-ride at the end of the activity. Every day will be different and unique.
Groups of 5 people maximum per activity